Montreal Travel Guide and Thierry Mugler Exhibit!
What To Expect
Language: Montreal is the second largest French speaking city in the world, after Paris. With that said, most employees at the shops and resturaunts speak both English and French so need to worry. I found the French speakers more inspiring than intimidating, so feel free to get a few phrases under your belt to practice while visiting.
Currency: In Montreal they use the Canadian dollar, you can either exchange US dollars at the airport or locally in Montreal. You can also use US dollars but the exchange rate will not be in your favor. Lastly, you can use your debit\credit card as you normally would.
Climate: So I'm not going to lie to you, it was very very very cold in Montreal, lol. Keep in mind my visit was during the coldest winter month, so I came prepared with all the coats and boots! There are four seasons similar to the US but a longer winter lasting from November to April.
Where I Stayed
I had the pleasure of staying at the Fairmont Queen Elizabeth in downtown Montreal. The newly renovated hotel is in a great location, located in the middle of the shopping and business district, it only took a short uber ride to get to most of our destinations. The best part of this hotel has to be the amazing service, from the front desk to the room service every interaction went above and beyond my expectations ( which are pretty high I might add, lol). Lastly, we must discuss the FOOD, every meal that I had was delicious so don't shy away from the late night room service or the gorgeous restaurant.
Where I Ate
Not gonna lie, I did a LOT of eating in Montreal! So I am sharing my top 2 restaurants below, this was a tough list to make but I narrowed them down just for you guys! These are locations that deliver on food, location, and ambiance.
Pastel Rita: Cutest décor and delicious coffee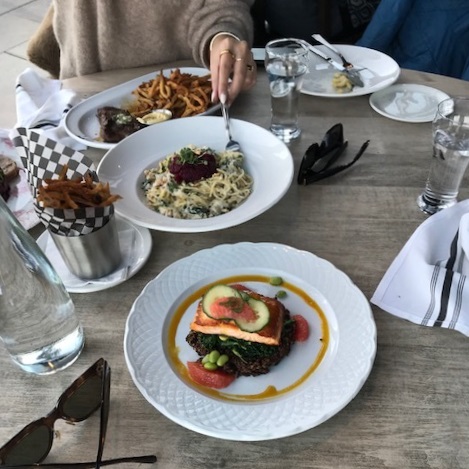 Beautiful views and delicious food!
Cutest décor and delicious coffee!
What I Did
The highlight of the trip was seeing the world premeir of the Thierry Mugler exhibit at the Montreal Museum of Fine Arts, and it was absolutely stunning. The exhibit was hand selected by Thierry Mugler from his archives to create a dynamic presentation. The hand selected items ranged from his entire career from his runway shows to celebrity costumes. Click on the Museum link to get more details and check out a few of my favorite pieces below. This is exhibit is definitely for anyone that loves art and fashion.
Thanks for stopping by, see ya!
Also if you missed it check out my YouTube video, to see more of my trip!